Compatible with MIL-DTL-38999 series I, II and III
Advanced composite material for weight reduction
Available in 3 configurations: 45°, 90° and Straight
Solderable ground lug
Self-locking: SUNBANK has designed and developed highly reliable mechanisms to withstand extreme vibrations
Corrosion resistant plating that meets RoHS & REACH requirements
Key features and benefits
Single Arm Backshell Description
The single arm backshell series is designed to offer strain-relief and damage protection to cables and harnesses, while also ensuring maximum weight saving. Engineered for civil and military EWIS applications, the Single Arm has many benefits compared to its die casted metallic version. The high-grade thermoplastic composite material is not prone to electromagnetic disturbance, "stealth ability", and presents a higher resistance to vibrations due to reduced harmonic resonance because of the weight reduction (40% lighter than aluminum).
Reducing weight will also have a positive impact on the overall weight of the electrical system, allowing the aircraft to spend less fuel and have a reduced impact on the environment.
Single Arm technology also offers the advantages of detent self-locking, a ratcheting coupling ring using non-corrosive clips inside. The audible ratcheting noise generated during the coupling process ensures a safe usage.
The backshell is available in 3 versions: Straight, 45° and 90°.
Black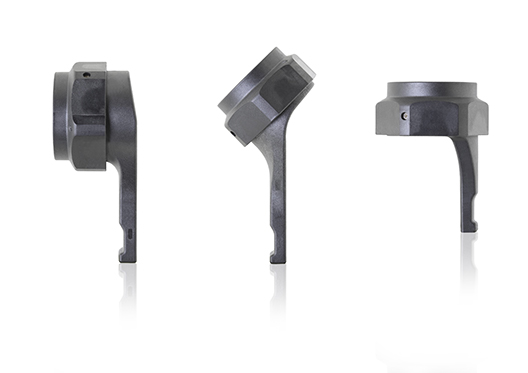 Electroless nickel plating